"Think out of the box" means to think differently, unconventionally or with a different perspective. It is a phrase which often refers to creative thinking. Well, that's the textbook definition, now let's see its origin…
The origin of the phrase "Think out of the box" may be obscure, but it is popularized because of a puzzle called the "nine dots puzzle" from a 1914 book Cyclopedia of Puzzles by Sam Loyd.
The puzzle consists of a diagram below with the following instructions:
Connect all the dots by using four straight, continuous lines that pass through each of the 9 dots, without lifting the pen and without tracing the same line more than once.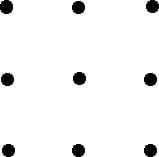 [Note: Don't directly jump on to see the solution without giving a try by yourself.]
One of the solutions appears below: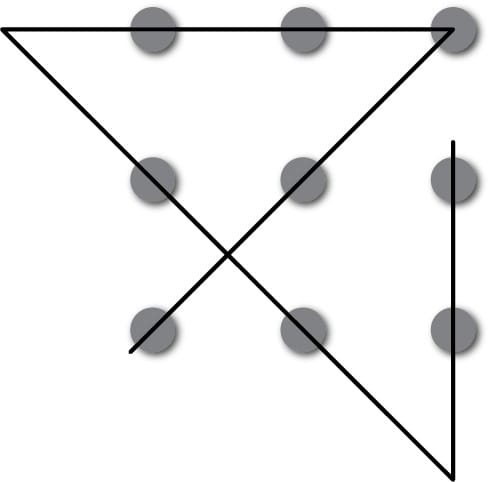 Now do you see where "out of the box" comes from? The puzzle only seems difficult because we commonly imagine a boundary around the edge of the dot array (Yes, it happened with me, and I am pretty sure it might have happened with you too). It was never mentioned that you have to stay inside the box, but our mind tends to build a box there, and a constraint is instantly put in the place.
People often say think out of the box, but how do you really do it?
As Twyla Tharp said, "Before you can think out of the box, you have to start with a box."
The key here is to define the box in any given situation and then to seek the alternative, often unconventional solutions that would be considered beyond the norm.
When you are faced with a seemingly overwhelming obstacle, train yourself to not focus on the specific issue but think more expansively about all of the reasons and the paths that led to that issue. Consider every possibility and hypothetical situations along the path, and never be dismissive of anything. When you do this, you will come with some alternative solutions giving you options that you did not see when narrowly focusing on a specific issue.
Think wide – The problem is not the problem, but your attitude towards the problem.
It is often the kind of thinking that creates the kind of problems that demand "out of the box" thinking in the first place. Keep yourself calm, keep every realm of thinking under consideration. Don't think of any unrelated or unconnected thoughts. Expand your viewpoint or broaden your mind.
Once you have identified a problem, then search for regular or typical solutions to that problem. After that, you can start looking for ways to address the situations with an open mind in those areas which were not considered previously. Never dismiss any possible solution just by saying, "It simply can't be done". Consider everything. Go for every possibility until you come to know that it can be done or not.